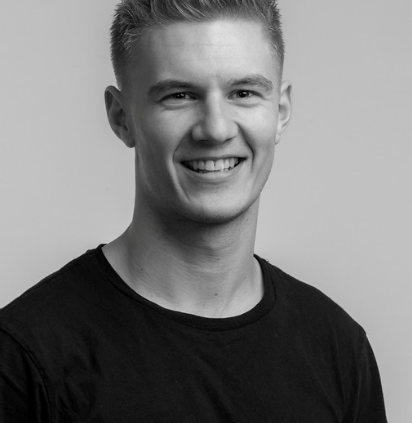 Gustav Jarl Emborg
Fysioterapeut BSc
Causaklinikken - Osteopat og fysioterapeut i København
Gustav er uddannet fysioterapeut BSc. fra PH Metropol i København og har siden taget en master- og diplom i osteopati på International Academy of Osteopathy. Herudover diverse kurser i sportsfysioterapi. Gustav afventer autorisation fra Sundhedsstyrelsen.
Gustavs tilgang er rimelig trænings- og aktivitetsorienteret – målet med behandlingen er, at du kan bruge din krop, bevæge dig og træne som du har lyst og uden gener. Det kræver en grundig samtale og undersøgelse for at kunne bestemme, hvilke af kroppens systemer der bliver belastet hvornår, samt hvad der så kan gøres for at sørge for, at restitutionen kan få arbejdsro. Plan og delmål er vigtigt for Gustav at få skitseret for alle typer patienter; "Jeg oplever, at langt de fleste kommer til osteopati, fordi de mangler dels at kende årsagen til deres problem, og dels at have en rettesnor for deres vej ud af det – det er vigtigt for mig, at folk kender og forstår den plan, vi lægger sammen".
Udover arbejdet i klinik har Gustav arbejdet med træning og behandling af sportsfolk fra rugby til sejlads. Mangfoldigheden og variationen er det, der gør det spændende hver gang. Han arbejder desuden som træner i Cramers Studie, hvor han ser alle typer af klienter fra gravide og nybagte mødre til motionister på alle planer. Det skal understreges, at Gustavs tilgang nok lyder meget sporty, men at den i den grad er for alle!
Ved siden af arbejdet nyder Gustav bl.a. at styrketræne og spille fodbold. Den årlige skitur er hellig, ligesom en tur på mountainbike bestemt heller ikke er af vejen. Bøger med emner som søvn, kost og fysiologi har stor interesse, men også historie, fysik og psykologi kan findes på bogreolen derhjemme. Gustav elsker at lave mad, og så har han en lille fetisch for ure.
Send en e-mail til Gustav på gje@causaklinikken.dk eller ring til ham på 31 57 33 19